WHEN:

Saturday, February 23rd, 2019, 10AM – Noon

WHERE:

Ozark Yacht Club, 500 Yacht Club Landing Drive, Lake Ozark, MO 65049

ADMISSION:

$29 individually, $45 for two or more attendees
The top 5 reasons to attend:
Great location: Ozark Yacht Club in Lake Ozark, MO. Brunch and beverages included!
New Presentation: 30 years of lakefront knowledge in 2 hours: How to Avoid the Top 5 Most Expensive Mistakes made by Lakefront Sellers…learn all the key differences when selling lakefront property at Lake of the Ozarks!
Exhibitor Displays: Right inside our meeting room! Talk to and hear from several local professionals that specialize in the lakefront lifestyle.
FREE 2 Night Stay at Big Cedar Lodge: One lucky attendee will win a fun 2 night get-a-way! Valued at $700.
After, enjoy a full weekend of fun by checking out these lake events: Polar Plunge at State Park Public Beach 2, Expo 2019 Home Business and Lake Living Expo at Lodge of Four Seasons and Winter Fest @ Tan-Tar-A.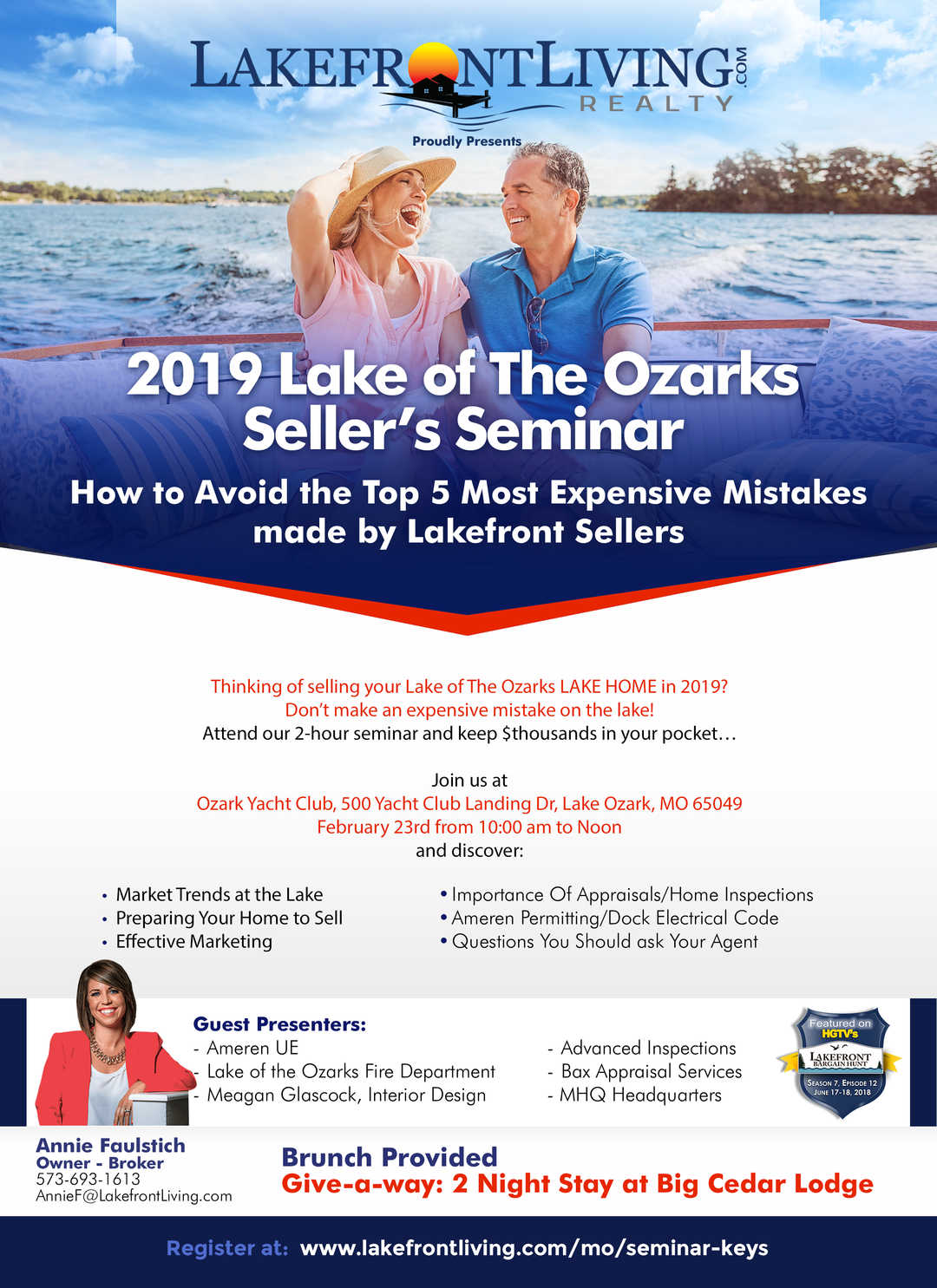 Days
Hours
Minutes
Seconds
Seminar FAQs
What made you start a Lakefront Buyers Seminar?
At least a dozen times a year, we get calls from people who were unsuccessful in selling their lakefront home because of issues which could have been avoided had they been an informed Lakefront Seller. Many involve the misunderstanding of home inspections, dock electric codes, poor marketing, and pricing the home.. These are not issues at all if Sellers know the right questions to ask up front. This is why the seminar was created!
What do I get for my $29 entry fee?
Take home material
Presenter Discounts
Brunch and Beverages
A chance to win FREE 2 Night Stay at Big Cedar Lodge: One lucky attendee will win a fun 2 night get-a-way Fun and refreshments
Full money back guarantee if not completely satisfied
What if I want to bring someone with me?
No problem! Your guest is half price…just $16 more
What will I learn?
The entire focus of this seminar is to explain the key differences to consider when Selling lakefront property vs. any other real estate. Just some of the topics include:
Does Home Staging help lake homes sell faster and for more money? How much does it cost? Is there actually consumer behavioral science behind Home Staging?
How do I choose a listing price for my Lake home when it is so unique? How do I avoid extended marketing times and more importantly, ensure it will appraise at full sale price by the Buyer's Lender?
How do I create a marketing plan that highlights the "lakefront lifestyle"? What information about the lake is important to buyers? Why is it important to think like a buyer and not a seller?
How do I expose my lake home to the maximum number of lakefront buyers…not just locally, but nationally? What are the top 3 items lakefront buyers need to see in my listing?
Are there real estate agents that specialize in selling only lake homes? What are the advantages of using them vs. a "generalist" and/or selling the home myself?
And much more…
Is this just a commercial for your company?
No. It makes us crazy to attend seminars where the host or speakers are just plugging their services.
At our seminar, every minute is spent providing you the absolute finest information, so you can make informed decisions and avoid mistakes.
Do you really give away a FREE 2 Night Stay at Big Cedar Lodge?
Yes! Every person that attends receives a ticket for the 2-night stay drawing.
Where and when is the seminar?
The seminar will be held at the Ozark Yacht Club, 500 Yacht Club Landing Drive, Lake Ozark, Missouri 65049, 573-552-8401. The seminar is Saturday, February 23, 2019 from 10:00 AM to Noon. Brunch and beverages will be served. It is highly suggested you get there 30 minutes early to meet with some of our presenters prior to the seminar.
What do past attendees say about the seminar?
"We can't believe how much we learned in your seminar. There are 8 or 9 items that never even occurred to us before. We especially like the 'Buying waterfront in the winter' topic!"
~S. Walsh
"Before coming to your seminar, I thought all lakes were the same. Now I know the right questions to ask when checking out the lakes in my area. Thanks for all your help."
~T. Murphy
"We plan to build our dream lakefront home next year. The information your speakers had on lake home designs, waterfront zoning regulations and conservation committees will certainly come in handy."
~J. Reilly
"We happen to be considering an offer on a lakefront home in Sturbridge. So glad we came here first. The 'contract essentials' worksheet will be a huge help and keep us from making some major mistakes.
~M. McClain